For teachers and parents at home during COVID 19 restrictions,  podcasts may be interesting. We will add to this list, and we start with podcasts from National Heritage Areas, of which we are one.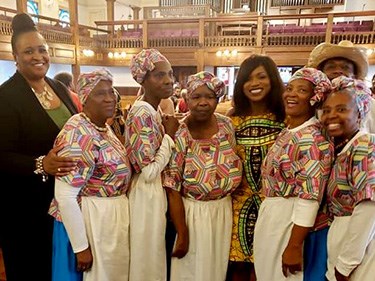 In Episode 3.2, Jules speaks with Heather Hodges, Executive Director of the Gullah Geechee Cultural Heritage Corridor, about efforts in the Corridor to support and revive Gullah Geechee Watch Night traditions.
Spanning 425 miles of coastline and sea islands from North Carolina to Florida, the Corridor's mission is to support and celebrate the culture and history of the Gullah Geechee people, who are descended from enslaved peoples from West and Central Africa. One of those traditions is Watch Night, also known as Freedom's Eve. In the midst of the Civil War, people gathered together in churches on the night of December 31, 1862, to await midnight, when the Emancipation Proclamation was to free millions of enslaved people in the South.
Over the years, many African American churches have continued to hold Watch Night services each year. However, over time the connection between the New Year and the Emancipation Proclamation was largely forgotten. Heather explains how the Corridor has recently been working with community partners to reestablish Watch Night's historical ties and revive its Gullah Geechee traditions.
2). Here is a podcast from the American Social History Project
https://ashp.cuny.edu/podcast
_______________________________________________________________________________________________________
HOUSATONIC HERITAGE, MCLA AND BCC OFFER A COURSE TO AREA TEACHERS ON HISTORICAL, INDUSTRIAL, CULTURAL AND ENVIRONMENTAL INFLUENCES OF THE REGION

GREAT BARRINGTON, MASS – The Upper Housatonic Valley National Heritage Area (Housatonic Heritage), Massachusetts College of Liberal Arts (MCLA), and Berkshire Community College (BCC) invite area teachers to participate in The Upper Housatonic Valley Experience this Summer 2012, the week of June 25 to June 29.
This three-credit graduate course is intended for Berkshire County and Northwestern Connecticut middle and high school teachers of history, social studies, English, science, business and industrial technology.
The Upper Housatonic Valley Experience integrates various aspects of the heritage of the region – the social, cultural, economic and industrial history of the valley, the ecology of the river throughout that history, and the symbiotic relationship between that history and ecology.  Instructors will assist students in designing projects that infuse this information into their classrooms while meeting state standards.
Field trips to local cultural, environmental, and business sites, and presentations by guest lecturers will be a major portion of the course.
Participants will review their current curricula and develop standards-based lessons related to the Upper Housatonic Heritage Area content that integrate contextual applications and motivational instructional strategies.  Individuals, school-based and/or content-based teams will develop written lesson plans suitable for dissemination.
The course content can be applied to any river watershed area and will be team-taught by faculty from MCLA and BCC.
The course is sponsored by the Upper Housatonic Valley National Heritage Area in cooperation with the Berkshire Chamber of Commerce, Berkshire Community College (BCC), MCLA, the Berkshire County Regional Employment Board and the Berkshire STEM (Science, Technology, Engineering and Math) Pipeline.
A stipend that covers the cost of registration will be provided to participants who successfully complete the course. Enrollment is capped at 16 participants, so those interested should register early. Note: Funding is available from the Upper Housatonic National Heritage Area toward the cost of transportation for follow up student field trips; details will be made available during the course.
More information and registration form can be downloaded off the Web site: http://www.mcla.edu/About_MCLA/uhrve/
Fax or e-mail registration to the MCLA registrar's office as indicated on the form.
On this page, you will find links to Teacher and Education pages of our member and friends' sites.
Hancock Shaker Village
School Visits
http://www.hancockshakervillage.org/content.php?section_id=11&page_id=56
Workshops
http://www.hancockshakervillage.org/content.php?section_id=19&page_id=77
Berkshire Museum
Education
http://www.berkshiremuseum.org/programs/programs.html
Sharon Historical Society
Kids and Teachers
http://www.sharonhist.org/kids-teachers.htm
Upper Housatonic Valley African American Trail
https://mcla.digication.com/AAHT/Home
Beckley Furnace
http://beckleyfurnace.org/pages/student_visits.htm
The Mount
Courses
http://www.edithwharton.org/events.php?event_subCat_id=16
Trustees of Reservations
http://www.thetrustees.org/what-we-care-about/learning-discovery/
Norman Rockwell Museum
http://www.nrm.org/programs-and-events/schools/
Chesterwood
http://chesterwood.org/education/
Mass Humanities
http://www.masshumanities.org/?p=teachers